The Long Haul is an anarchist resource center and community space. Our goal is to provide the shell for a space that feels alive with people, projects, and ideas (whether in concert or conflict)–where together we negotiate a tension with society.
We provide a office/meeting space and a non-profit umbrella for a variety of projects/collectives, as well as hosting for numerous social and political events. We also house the Infoshop .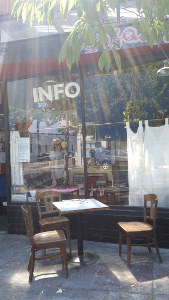 What is the Infoshop?
The Infoshop is a combination of a lending library, computer room, zine making space, activist reading room, and a social gathering space. Anyone can come and browse our many periodicals, zines, and pamphlets in our front office; check-out books, DVD's, or VCR tapes from the lending library; conduct research using our computer; produce zines in our zine making space; or simply talk with some interesting people.
But, the Infoshop is primarily an information distribution center. Much of literature, (including our own newspaper, Slingshot), is available for free. Flyers regarding current political events and radical/alternative news sources are always posted on our front bulletin board and are on the front desk, these come from the community so please help us stay informed.
What can we do FREE at Long Haul?
The Long Haul Computer Resource Center
The Long Haul has a high-speed, internet connection as well as a computer available for high speed internet access. The computer is opened during normal Infoshop hours, but is subject to close without prior notice.
The Long Haul Zine Making Space
Come and put together your ideas in our space. Complete with saddle stapler, waxers, glue, sharpies, typewriters, clip art/collage books, and a copier. Open during Infoshop hours. This copier should only be used for making a master copy of your finished product, which you can then take downstairs to the little Reprographixxx Berkeley Riso printing or your favorite copy shop and reproduce!