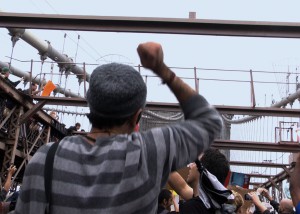 It is 2011. Three years into the global financial crisis, there is a growing sense that political and economic elites sold out the people. In response, a wave of revolutions spreads from North Africa to Europe, and even the United States.
In New York City a small group of activists meet in the NYC General Assembly to discuss the possibility of #OccupyWallStreet. On September 17th they go to the financial district and occupy Zuccotti Park. They rename it Liberty Square.
The square is a liberated space. Assemblies are held to make collective decisions, working groups are formed to meet basic needs such as food and shelter. A new world is being built and anything seems possible.
In a matter of weeks there are over one thousand occupations formed across the globe. The activists soon find themselves in the center of a growing movement. They face many external challenges including the media, the unions, political parties, and police violence. However, it is the internal challenges that they cannot overcome.
The non-fiction feature film, All Day All Week: An Occupy Wall Street Story, tells the story of OWS from the perspective of those who lived it. Filmed by and in conversation with participants, the film offers a glimpse inside the daily life of occupation as well as reflections on the experience.
Director Marisa Holmes shall be available for Q and A after the film.
Donation – no one turned away for lack of funds